The ability to think creatively is infused in everything we do. Mount Mary students hone a unique ability to develop creative concepts and implement them with an underlying commitment to compassion and transformation. Here are just a few examples of our culture of creativity, and the ripple effect that our students' work is having in the many communities we serve.
CREO
Latin for "to make, create, produce," CREO is an annual celebration from Mount Mary University's School of Arts & Design, showcasing student work from the fashion, fine art, graphic design and interior design programs.
Fashion, art, and creativity take center stage during CREO. The fashion show is a professional New York style production with lots of energy featuring over 100 student-designed garments and collections. Each year, fashion industry leaders, retailers and manufacturers recognize design excellence with various student awards.
CREO also features a juried Honors Show exhibit of more than 50 pieces from Mount Mary University graphic design, art therapy, interior design, and fashion illustration students.
VOICES OF LEADERSHIP
The Women's Leadership Institute, designed to engage, inspire and accelerate the development of creative leaders within the University and beyond, hosts high profile leaders with deeply inspiring expertise who challenge the community to create breakthrough change.
Past presenters include Malala Fund Co-Founder Shiza Shahid, SoulPancake CEO Shabnam Mogharabi, former Hewitt Packard CEO and political candidate Carly Fiorina; Pampered Chef founder Doris Christopher; political advisor Betsy Myer; and fashion model, designer, activist, social innovator and entrepreneur Lauren Bush Lauren.
Our goal is to convene diverse voices through a variety of events and foster conversations about women's roles and challenges. The Voices of Leadership Series is an opportunity for networking, sharing big ideas and for all of us to interact with talented, enthusiastic women leaders of the world.
WALLS THAT TALK

Artwork created by Mount Mary students now inspires visitors to GE Healthcare's Menlo Design Studio. Located in the company's Waukesha facility, the studio is home to workshops that train participants in the innovation and research process used at GE Healthcare.
Nearly 100 students from sculpture, painting, 3-D design, graphic design, fiber fabric design and art therapy courses collaborated on compassionate art-making using GE Healthcare principles of human-centered, empathic design.
Students in the 3-D design class built vignettes that incorporated live models to communicate a narrative or tell a fragment of a story. Large-scale photographs of the student artwork has been hung in the hallway leading to Menlo Design Studio.
A Mount Mary education pushes boundaries, and our students' classroom experiences extend deep into the community for practical application. The result is not just real-world experience; it's real-world transformation.
COMPASSIONATE WEARABLES

A bracelet that releases calming aromas to soothe an agitated Alzheimer's patient. A blanket that mimics the feel of a mother's skin for a premature infant isolated in an intensive care incubator. Artwork that inspires empathy through visual storytelling. This is creativity in action within Mount Mary classrooms and the result of a collaboration with GE Healthcare.
Mount Mary students were tasked with designing "compassionate wearables"— new, innovative products aimed at improving comfort for individuals challenged with health afflictions. Teams selected health conditions that included Alzheimer's, arthritis, premature birth, anxiety disorders, cancer and diabetes. Students conducted interviews with patients, their caregivers and family members to understand patients' emotional experiences and needs.
The result? Students gained practical experience in empathy-driven design. Today's employers look for creative thinkers with innovative ideas, and Mount Mary students are ready to meet those needs long before graduation.
THE COMMONS
Mount Mary students put their creativity and problem-solving skills to work as part of The Commons, a regional startup accelerator and entrepreneurial talent program launched by Milwaukee-area companies and universities. The Commons launched with a weekend event where students formed teams to assist corporations with previously identified challenges.
One student – Shannon Molter -- worked on a corporate team helping Kohl's Corp. leverage digital technology to increase its beauty department sales. Shannon's team proposed in-store and mobile apps for customers to use. This work led Shannon to a prestigious summer internship as an IT business analyst.
In this project Mount Mary students like Shannon honed an important skill – agility. Or the ability to think creatively amidst an ever-evolving challenge. This skill is essential for professionals in the 21st century. Our students possess it in abundance.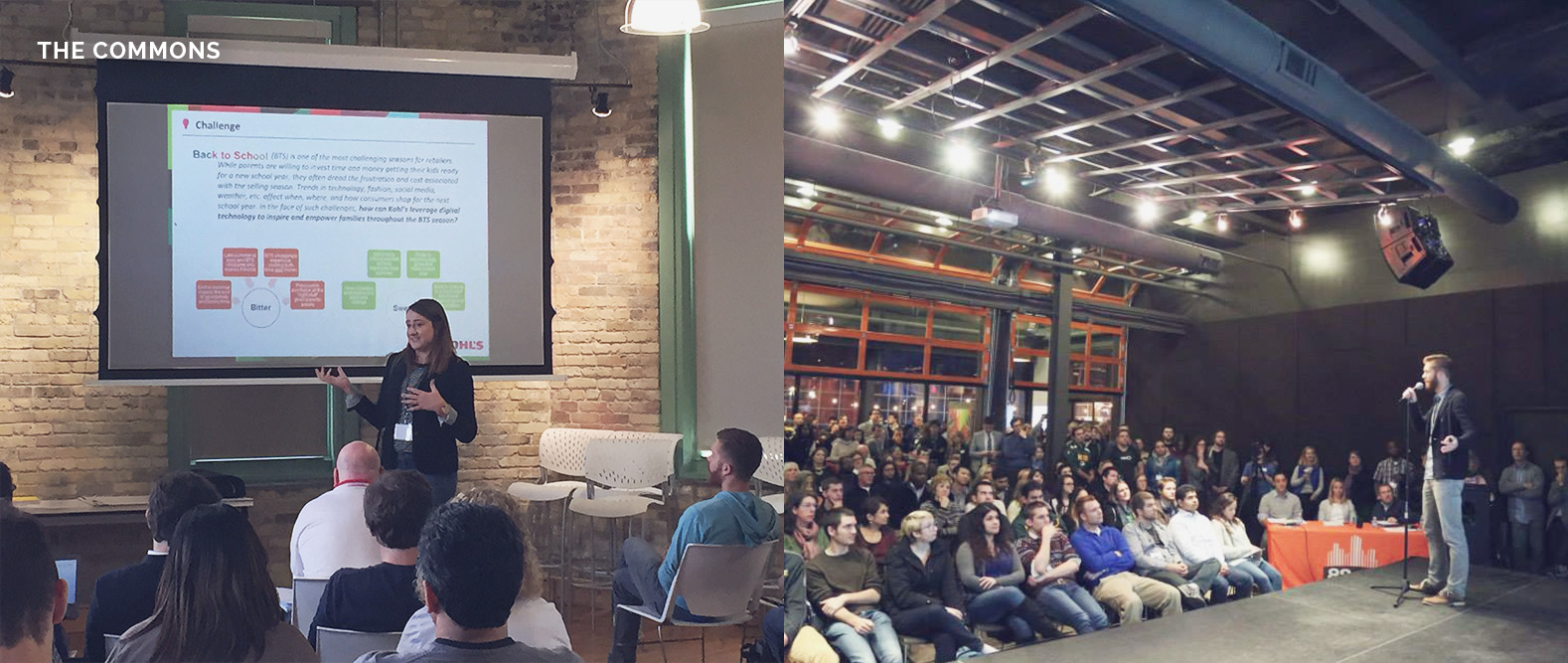 See all available programs at Mount Mary University.